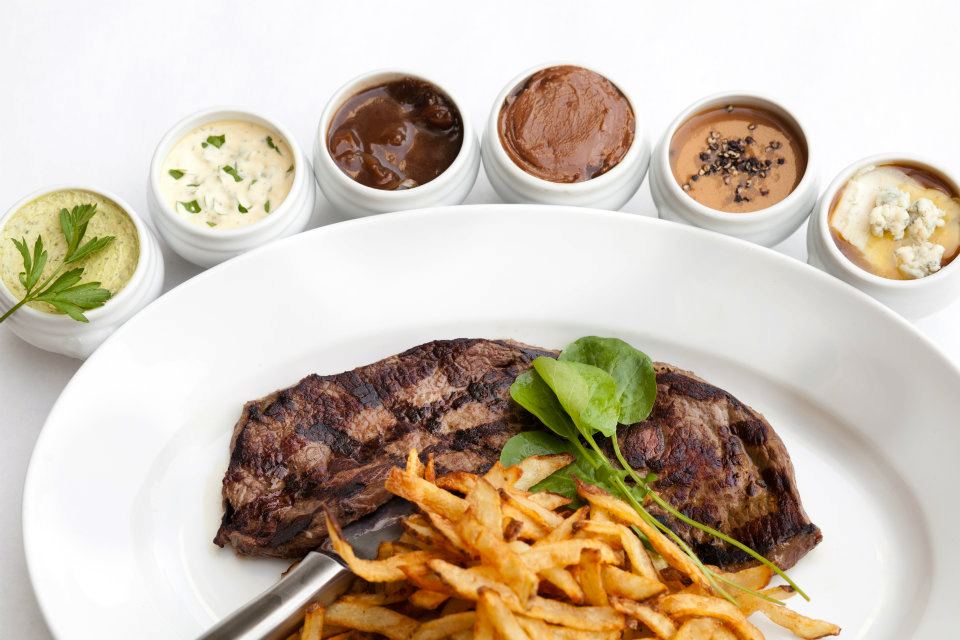 Mon Ami Gabi is a French bistro located inside and outside of Paris Las Vegas. While Mon Ami Gabi is a perfect fit for the Paris Las Vegas theme, there are four other locations across the country. The Las Vegas location is unique in that its patio seating offers a fantastic view of the Las Vegas Strip and the beautiful Bellagio Fountains across the street.
For anyone who knows and loves a French bistro and classic dishes, Mon Ami Gabi may be the perfect place. Its decor is traditional and beautiful yet not too uptight that some may imagine. After all Paris Las Vegas is a family hotel.
The traditional menu features classics such as Onion Soup Au Gratin with baked gruyere, Frisée & Bacon Salad with a soft-poached egg and the traditional Steak Frites.  Mon Ami Gabi offers over 80 types of wine to complement the cuisine and all are served by the glass or bottle from their signature rolling wine cart.
Now back to the food!  Steak Frites, generally, isn't a very fancy meal but it's a staple at most French restaurants and at Mon Ami Gabi it has always been done right. The steaks I've had have been prepared perfect medium for me each time and the frites are well, frites. When ordering Steak Frites I never really get excited for a fry like I do a good quality steak and that's what I always get. I'm not a sauce person so I stick with the Classique Steak Frites. While some of the flavored sauces can get in the way of the steak butter never does. It only enhances the flavor of the meat.
While the steak was good, Mon Ami Gabi shines most to me in the morning. It's breakfast may be the best on the Las Vegas Strip and is a brunch spot everyone should remember.  The coffee in my opinion is definitely the best coffee you'll find on the strip. Combine great waffles and crispy bacon with great coffee and patio seating on the Las Vegas Strip and you have one of the best "Waking up in Vegas" experiences you'll find.
No matter what time you go, wait for patio seating. Don't worry about temperature; there are misters during the warm months and heat warmers for when it's cold.