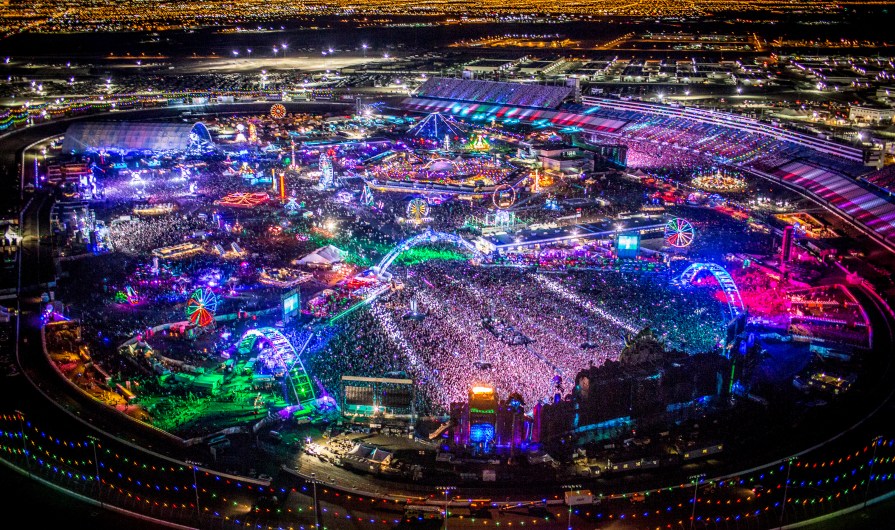 It's official, tonight EDC Vegas 2017 will begin with three nights of incredible music, wild costumes, dancing until dawn, meeting new friends, some light traffic (ahem), and so much more!
If you're headed to the Las Vegas Motor Speedway tonight, it's a good idea to start hydrating now. Not only are you looking at triple digit temperatures ranging from 105 to 110 degrees during the day it can get really hot at night especially when dancing, drinking and being in the crowd around the stage.
Also note that it's going to take a minute to get out to the Speedway, so make sure you've arranged your transportation early enough to get you there because no matter what you'll likely arrive fashionable late due to traffic.
If you're looking for specific set times and performers by stage, Insomniac recommends downloading their festival app or you can check out set times here.
A few fantastic items to not miss this year is the chance to swim under the stars while listening to your favorite DJ.  It's called the Electric Beach and it's brought to you by Corona – so sip on a bit of paradise while in paradise and don't forget to get day glow painted to enhance your wet experience.
Head to circruitGROUNDS for some serious light show action. Insomniac brought you the redesigned stage last year and added even more amazingness this year. They're telling us that at least 4,000 lights will illuminate your dance moves as you and the crowd sways to the beats.
For all of you adrenaline junkies, there will be 18 carnival-style rides. Pro tip: ride before you consume any alcohol.
Finally, head to kineticFIELD and keep your eyes peeled for what some incredible performers "spreading their love," according to Insomniac.
As always, be safe and have fun EDMers!