You'd have to develop a pretty strong argument against the hamburger being the quintessential American culinary creation... it is an explosion of flavor, very versatile, and it comes in a convenient compact package that you can eat with your hands! The hamburger has evolved from a simple finger-food sandwich that has been the flagship of fast-food establishments for decades, to a gourmet main menu item across the nation. Although it seems that pizza has resurged as the hot new food as of late, the burger has remained iconic in it's ability to be the perfect canvas for which chefs can combine creativity and experimentation to offer a unique flavor experience for your taste-buds. 
Not sure where to pop in for a burger bite among the hundreds of restaurants and bars along The Strip? We've got you covered, and this list will steer you in the right direction:
1. Burger Bar - Mandalay Bay 
The burger bar inside the Mandalay Bay has been a stable of tourists and burger fans since the jump. It'll never let you down and there is reason for the wait. Buger Bar offers tons of diverse options to build the perfect burger including 8 bun options including gluten free, pretzel bun, and ciabatta. We recommend the Buffalo burger and the sweet potato fries... tremendous! To go along with the superb food, Burger Bar offers top-tier service that will surely make Burger Bar the first stop on your culinary expedition in Sin City. 
2. Umami Burger - SLS 
You'd be hard pressed to find this joint missing from any burger list in New York, LA, or Chicago.  Umami Burger cares about one thing and that is flavor. This restaurant is located inside the SLS Hotel and Casino as a part of the Beer Garden and Sports Book trifecta. For the ultimate flavor experience be sure to try out the Truffle Burger which features in-house truffle glaze and cheese!
3. Shake Shack - New York-New York Hotel & Casino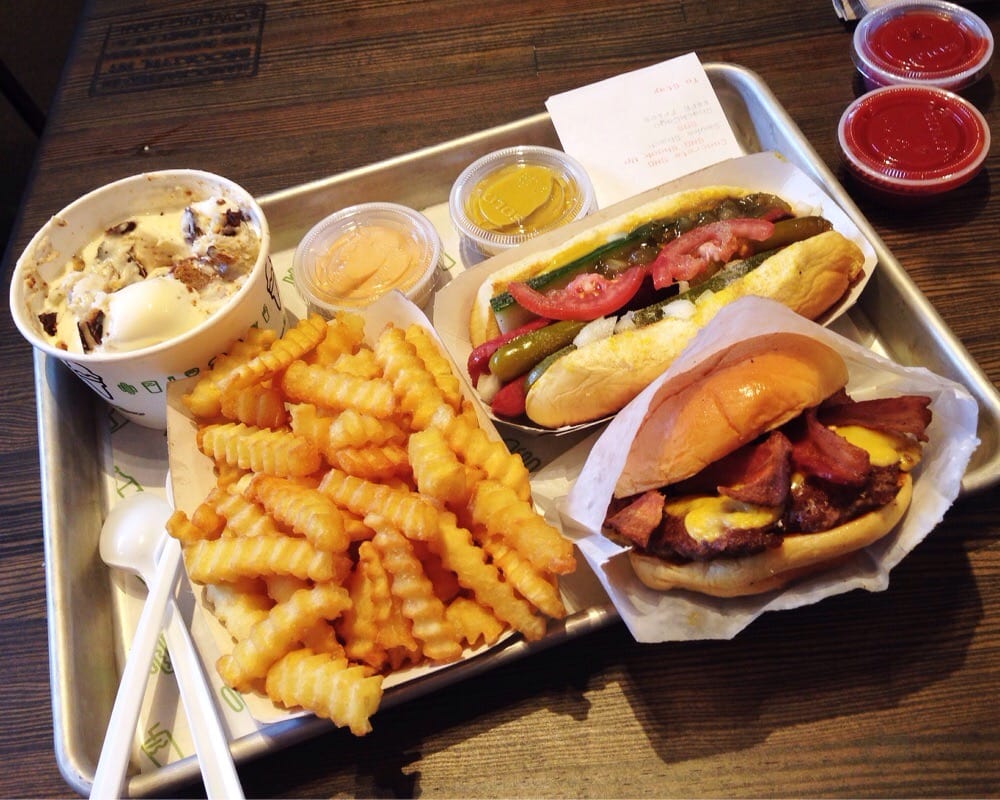 This modern burger pit stop has only been open for a little over a year but it is the perfect choice if you want a quick burger that offers something a little more than In-N-Out or Fat Burger, two west coast burger staples. This burger shack is located right outside New York New York, but also has a Summerlin location for local burger connoisseurs.  Although Shake Shack is counter-serve style, don't underestimate their ability to serve up the perfect meat sandwich. You can't go wrong with their SmokeShack burger which features all-natural smoke Niman Ranch bacon and chopped cherry peppers. You also can also order beer or wine to go along with your satisfying meal!
4. Holsteins Shakes and Buns - The  Cosmopolitan
Hidden amongst The Cosmo's luxury eateries, Holstein's offers an accessible gourmet burger option. You have to try the Gold Standard: dry-aged sirloin with smoked bacon, aged goat cheddar cheese, tomato confit, baby arugula, and garlic chive aioli. This burger is the truth, and you'll be forever in awe after you try it and it's well-worth the $18.50 price tag.
5. BurgR - Planet Hollywood Resort & Casino
Whether you are a fan of Gordon or not, you must take a bite into one of his offerings here at BurgR to see what all the hype is about. BurgR offers a little more on top of quality ingredients, the presentation and side dishes are just fantastic. Truffle fries, coconut pudding shakes, and gourmet hot dogs. You could eat at BurgR for lunch and have enough fuel in the tank to last you well into your late-night revelry. We highly recommend the Uber Cheese Burger because it's awesome medley of cheeses: asadero, fontina, boursin, and vintage white cheddar. Be sure to order on the the 5 delicious shake options to top it off!