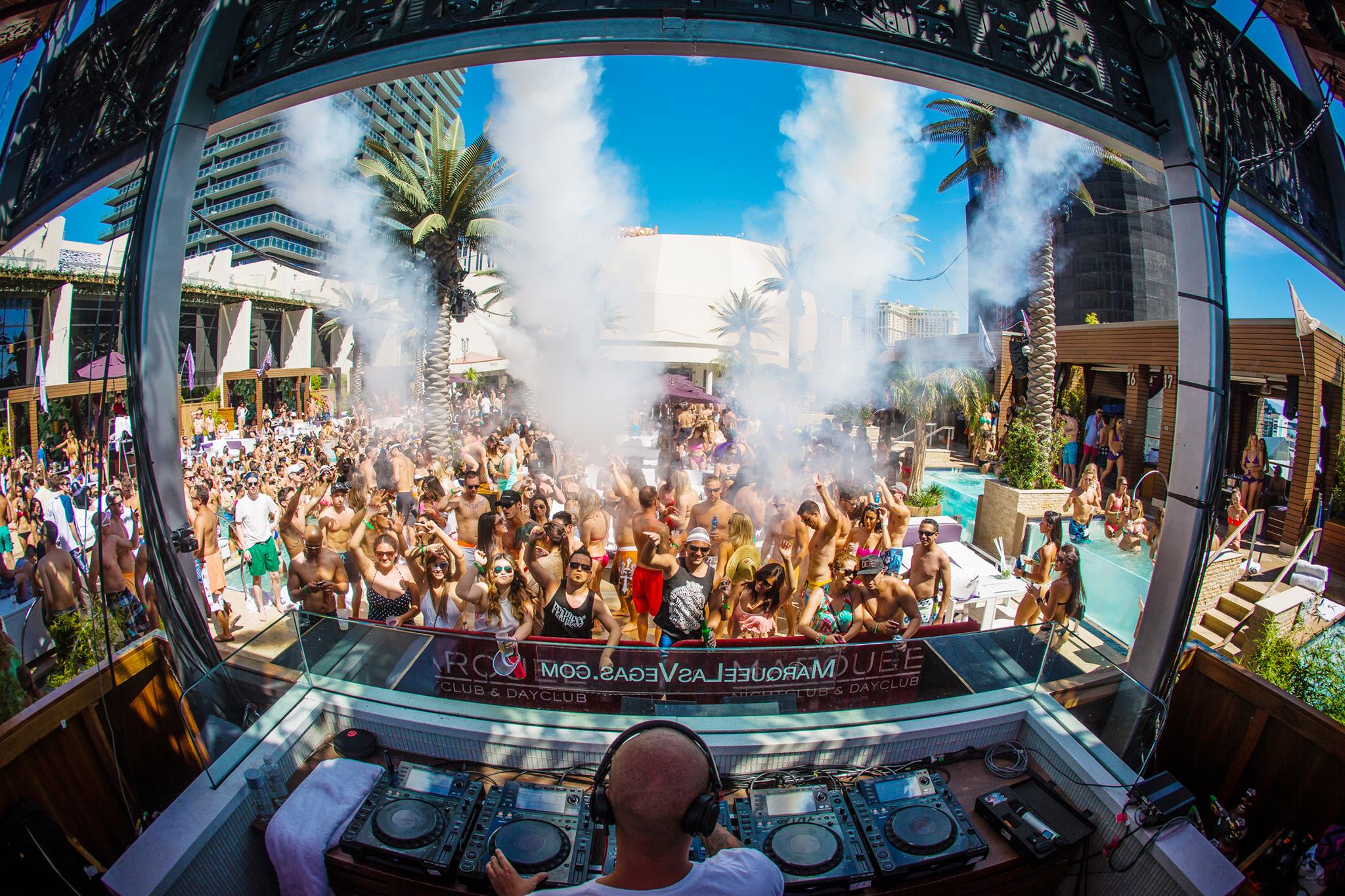 After the heat of summer dies down and the pools begin to close, that doesn't mean the party stops in Vegas. In fact, things get even hotter in the winter with a pretty decent list of day parties ready for you to join in all the fun.
Not all the pools are closed yet, and with weather still hitting the 90-degree mark in Vegas, you can defintley still catch some rays and sip on delicious cocktails in your finest swimwear. Head to Marquee Dayclub, Wet Republic Ultra Pool and Drai's Beach Club this weekend for the last of some summer hoorah. It may be fall in the rest of the country, but these pool parties are still open and ready for a grand finale of epic party proportions. Here's the DJ lineup for these final day pool parties:
Wet Republic Ultra Pool
Saturday, Oct. 11 – Calvin Harris
Sunday, Oct. 12 – Sunnery James & Ryan Marciano
Marquee Dayclub
Friday, Oct. 10 – Ashley Wallbridge
Saturday, Oct. 11 – ATB
Sunday, Oct. 12 – Markus Schulz for the Dome Launch Party
Drai's Beach Club
Friday, Oct. 10 – DVBBS
Saturday, Oct. 11 – Blau
Sunday, Oct. 12 -- Quintino
If you're headed to Vegas beyond this weekend, then catch the best winter day parties around to really get your day started in the right Vegas direction.
GBDC
Now it's time to grab that crazy costume, tutu and rainbow colored sweatband because Ghostbar's Dayclub (GBDC) is back beginning Saturday, Oct. 18 and it is so ready for action. One of the best winter parties around, you'll get blasted with confetti cannons as you enjoy late afternoon cocktails 55-floors above the Vegas streets. It is one of the wildest parties in Vegas and it all happens during the light of day. Check out more details here.
Party Brunch
LAVO's super sexy Party Brunch is back on Saturday, Oct. 18, so now you can go to both GBDC and LAVO for some daytime party hoppin'. Of course, LAVO's dress attire is more like going to be Sunday brunch-meets-nightclub, a bit less of the tutu's and crazy fluorescent neon outfits here. Dress in your finest club gear and watch as LAVO pulls the shades, gets the DJ booth pumping, and pours the Champagne all while you dance on tables. More confetti, super fun souvenir sunglasses and bottle service at 2 p.m. in the afternoon each and every Saturday? Yeah, we're down, are you?
XIV Vegas Sessions 2014 Resurrection
It's as if Halloween has come early this year with the resurrection of this one-day-only event at the super chic Hyde nightclub inside of the Bellagio. The XIV Vegas Sessions 2014 Resurrection party starts at 6 p.m. and is an epic place for pre-clubbers, but be warned, you may just not leave the party even after the sun goes down -- not that you'll  know when it goes down though. Wear your most intriguing costume and step it up a notch from last year's party – just make sure it's sexy and allows you to comfortable dance the evening away.
Want to get in on all this glorious day party action? Then hit us up here and we'll make sure you don't know the sun is still up.