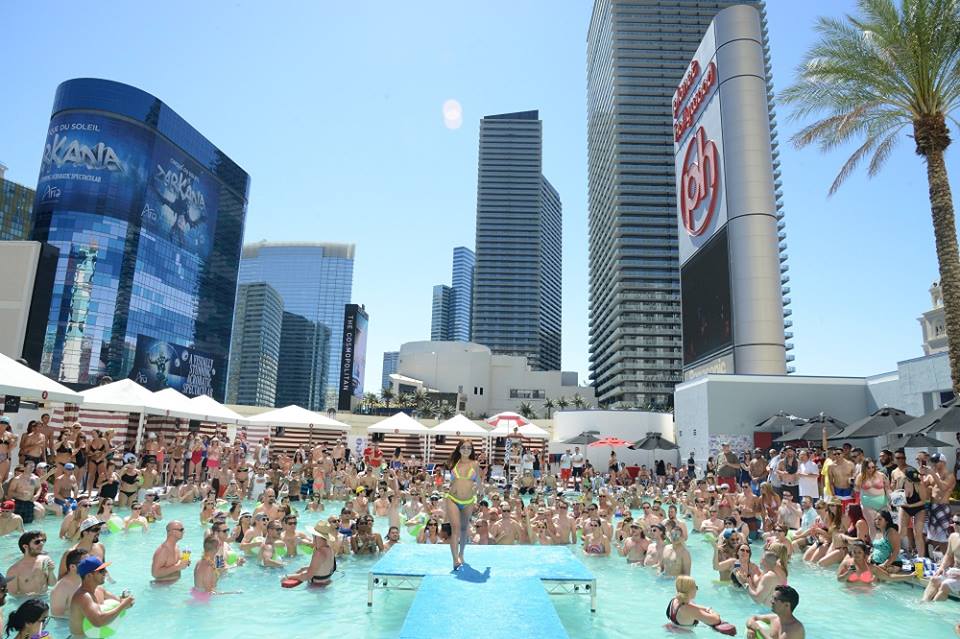 Planet Hollywood has been glowing on the Vegas Strip since 2007 when it was taken over by Caesars Entertainment, and you can bet that they know a thing or two about what makes Vegas, well "Vegas-y!" Take a gander at what we found to be Planet Hollywood's most compelling attributes:
PH Panorama Suites
You've got to have a sweet suite when you're in Vegas, right? Well, Planet Hollywood is definitely right on the money when they introduced their line of hollywood-themed rooms with their PH Panorama Suites. The 1,255-square-feet rooms give you a 180 degree view of the Strip, so you've got prime real estate to people watch in one of the craziest cities in the world. You'll get your choice of a theme, as well, including James Bond, Marilyn Monroe, Batman, Star Trek, Will Smith, Back to the Future, and The Wizard Oz.
Britney Spears
The pop star of my childhood is everywhere I go, these days. If you didn't hear every woman shout it from the rooftops when it was announced last year, Britney Spears now has a resident show here in Vegas called Britney: Piece of Me. It's doing very well, too, with many celebrity visitors attending to pay tribute to their 14-year-old selves and how much Britney contributed to the women they are today. Of course, we don't know how long Brit Brit wants to stay in our city, so also keep in mind that Planet Hollywood has a few other entertainment offerings like Jeff Dunham and the hilarious Sin City Comedy & Burlesque that we're partial to as well.
BurGR and KOI
It's not just because I've been binge-watching Kitchen Nightmares and Master Chef that I include Gordon Ramsay's BurGR in this list. The setting alone is a fiery, flame-grilled haven of burger expertise. Burger lovers everywhere will find something purely delectable off their menu. It was almost a full hour-long wait when the restaurant was already 3 months old and I went to dine, so that had to be a good sign. On the Eastern end of the culinary spectrum, KOI was one of my favorite Vegas restaurants for a long time and I chose to spend my birthday dinner there because of it. My tip to you is to always ask the hostess for the table right by the windows to watch the Bellagio fountains while you eat your rock shrimp tempura and sip your lychee martinis. It's also one of those quality restaurants that transition nicely into the nightlife scene with a lounge.
Pleasure Pool
This is what Vegas is all about! Hot sun, cool water, and sexy bodies everywhere. Pleasure Pool sits on the rooftop of Planet Hollywood and has all those precious amenities you need like cabanas, daybeds, live DJs and a cafe. Check out this spot on Saturday afternoons for their weekly bikini contests at 1 p.m. to see gorgeous girls parade around in tiny swimwear trying to earn cold, hard cash. Welcome to the city where dreams are made, folks.
Miracle Mile Shops
It's a 1.2 mile loop of shopping heaven. As a local, shopping here is the most frequent reason I visit Planet Hollywood because us locals know you can get some serious shopping done here. There are 170 stores, 15 restaurants, and a live entertainment venue and theater inside Miracle Mile Shops and an hourly "rainfall" in one area of the loop. I'm partial to the new geekery store Ink & Vector where you can get clothing and knickknacks from sci-fi brands like Star Wars, Doctor Who, The Walking Dead, Marvel and Hello Kitty. Obviously, there are more trendy and glamorous options, but it's all about whatever floats your boat.